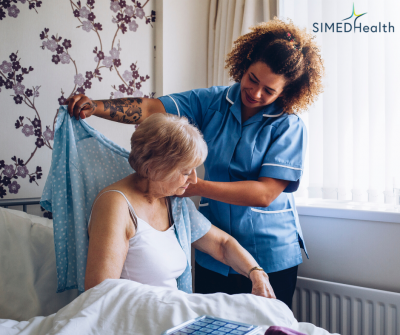 According to the National Alliance for Caregiving and AARP, about 34.2 million Americans have provided unpaid care to an adult age 50 or older in the last 12 months. February 21st is National Caregivers Day, and we talked to SIMEDHealth Psychologist Dr. Bernie Marrero about what caregivers can do to take care of their mental health.
1. What defines a caregiver?
"Caregivers are spouses, partners, adult children, parents, friends, or neighbors that help someone with daily activities and/or medical tasks. Caregivers assist with any aspect of an individual's needs," says Dr. Marrero. "Examples include but are not limited to buying groceries, helping their loved ones bathe get dressed, taking them to doctor's appointments, and handling finances.
2. That sounds rewarding, so why is being a caregiver such a strain on mental health?
"Being a caregiver can require a significant amount of time, emotional, and/or physical effort. Unless more than one person is assisting with care, caregivers can be 'on-call' 24/7," Dr. Marrero stated. "A lot of times, besides the person they are assisting, the caregivers are alone much of the time. It is ideal to have more than one person taking care of someone or have someone that is able to relieve the primary caregiver for periods of time, but that is not always feasible. Therefore the caregiver experience can be very isolating."
3. What can a caregiver do to take care of their mental health?
Dr. Marrero explains that it is essential to find "a balance between the caregiver and the person they are caring for. Though it may feel selfish, the caregiver needs to take time for their needs. It is beneficial in the long run and tends to make the caregiver a better caregiver. Also, training, insight, and knowledge are powerful tools. By understanding the requirements of the person they are caring for, it can help reduce anxiety, improve effectiveness, and safety of the assistance being provided."
4. What are the signs of caregiver stress?
Sadness
Irritability
Insomnia
Depression
Anxiety
Tension
Self-neglect
Isolation
5. What options are available to help caregivers?
"The American Association of Caregivers was started by two women and has now turned into a national organization with many different chapters for different illnesses. On their website, they have training courses and caregiver certifications. Along with helpful videos and blog posts with tips and advice for resources.
Locally, there are associations like Elder Options that help patients and caregivers. There are caregiver training, legal assistance, health programs, and caregiver support groups. Educating yourself and talking to people that know what you're going through can be one of the most beneficial things for your mental health."
Click here to schedule an appointment with Dr. Marrero or one of our other SIMEDHealth Psychologists.