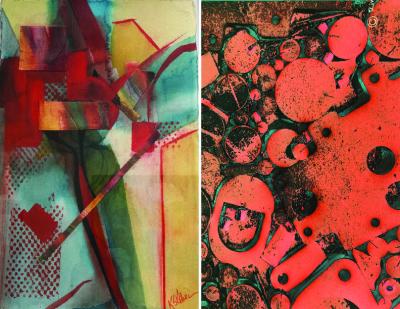 Written by: Yazmyn Presley
Every few weeks, we here at SIMEDHealth showcase the art of, not one, but two, talented GFAA artists. Now featured in our 4343 location is the work of Gary Ringo and Sue Kelman. Both of these galleries include works of art that are vibrant, abstract and multi-dimensional. Keep reading to learn more about both artists! 
Gary Ringo
Gary Ringo's artwork can be best described as unexpected, in the sense that, each piece of art created by him looks nothing like the last. Ringo says his work is drawn from his admiration for making "something of beauty out of junk."
Ringo uses his photography skills to capture an image of what most would consider, trash, and creates an abstract work of art based on those images. Each of Ringo's pieces are made up of a variety of different shapes, colors and textures, with thought-provoking messages alongside each painting.
"It is a thrill for me to see the next creation out of nothing but junk," says Ringo.
Patients visiting SIMEDHealth's Gainesville location can expect to see Ringo's creative works of art hung up all over the wall in the Lobby.
Sue Kelman
Sue Kelman's artwork, featured on the second floor of our Gainesville 4343 location, consists of vibrant-colored depictions of various types of natural landscapes. Kellman says she follows her "attraction to light and color, whether it is streaming through the woods or pouring through the sky." Many of Kelman's 2-D or 3-D paintings also radiate a sense of tranquility, making you feel as if you are actually there on the lake, or by the mountain.
Kelman is an award-winning artist who began painting, less than 10 years ago, after 30 years of collecting paintings from other artists. "I began my own journey as a watercolorist, initially concentrating on landscapes," says Kelman.
Kelman attributes most of her talent, in painting, to attending workshops and classes hosted by other talented painters.
Both of these artists share a passion for creating art that truly evokes emotion. Ringo and Kelman are two artists that understand the importance of, not only being original, but also owning who you are along with your craft.
Come and check this exhibit out before it's gone!