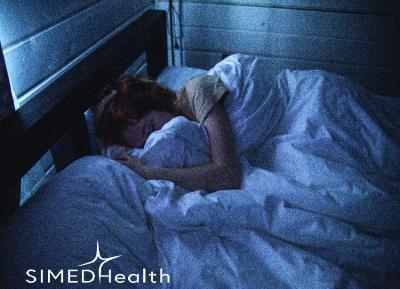 According to the Centers for Disease Control and Prevention, about 610,000 people die of heart disease in the United States every year. Since February is National Heart Disease Awareness month, we sat down with Dr. Anthony Ackerman of SIMEDHealth's Sleep Center to discuss the relationship between sleep, untreated sleep apnea, and heart disease.
HOW ARE SLEEP AND HEART DISEASE CONNECTED?
If you suffer from untreated sleep apnea, heart disease could be in your future. Sleep apnea is a common yet severe disorder that causes patients to briefly and repeatedly stop breathing while they are asleep. Dr. Ackerman explained that untreated sleep apnea can lead to abnormal heart rhythms, clogged arteries, and high blood pressure which all down the road can cause heart disease.
WHAT HAPPENS TO YOUR HEART WHILE YOU SLEEP?
He explained further that during sleep, when you stop breathing, the oxygen levels in your body go down. This causes a signal to be sent to your blood vessels to constrict causing an increase in blood pressure.  In a lot of instances this increase in blood pressure during apnea events, result in consistently high blood pressure. Dr. Ackerman said "What's good for the heart is often good for the brain" so sleep apnea can also increase your risk of stroke and dementia.
WHAT ARE THE SYMPTOMS OF SLEEP APNEA?
Common symptoms include:
Snoring
Day time sleepiness
Pauses in breathing
Waking up gasping or choking during the night
Waking up feeling unrefreshed
Difficulty controlling blood pressure
Gastric reflux
Morning headaches
Frequent nighttime urination
Waking up with dry mouth
IF YOU THINK YOU HAVE SLEEP APNEA…
Dr. Ackerman encourages you to talk to your primary care physician about it. It is also important to get your blood pressure, blood sugar, and cholesterol checked and make sure they are under control. Talk to your doctor about visiting our sleep clinic to discuss treatment plans such as sleep tests and positional therapy.