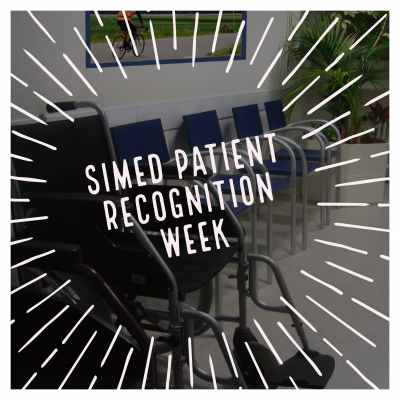 February 1 - 7 is officially known as Patient Recognition Week. While staff at SIMED always appreciates our wonderful, pleasant, and thoughtful patients, we wanted to give our employees the opportunity to express their thanks.
We spoke with five staff members and asked them what impact their patients had on their lives. We were touched by the answers and warmed to know that our staff rely on their patients just as much as the patients rely on them.
Read what they had to say, and Happy Patient Recognition Week.
SIMED Patient Recognition Week 2018
1.  Stacia Martinez, SIMED Gainesville Primary Care, Suite 15
"There's a bunch of good things I like about my patients. I like the fact we're very personal with each other. It feels like a second family in a way. When they come in, they smile because they know me. If they're having a bad day or if they're having a good day, they'll let me know. They give off a good vibe and are very happy."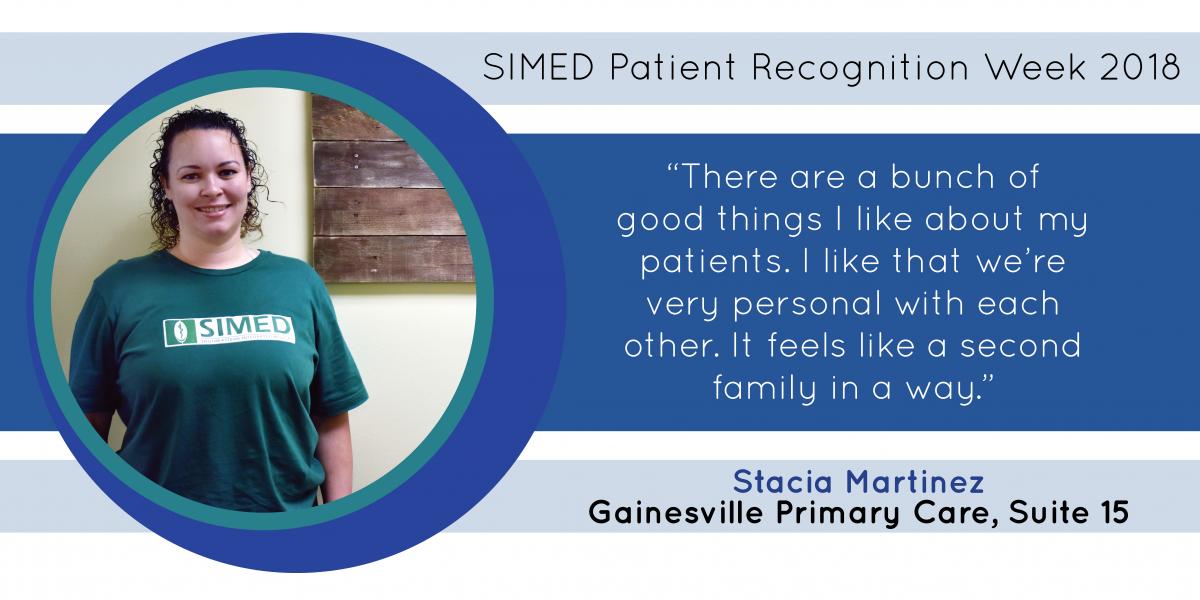 You can schedule an appointment with Stacia's clinic at (352) 375-6279 or online.
2. Kathy Watson, SIMED Gainesville Arthritis Center
"Our patients are not just our patients to me. They become part of my family! I am so glad I am here to help take care of you. I will always greet you with a smile on my face. Thanks for sharing your life with me."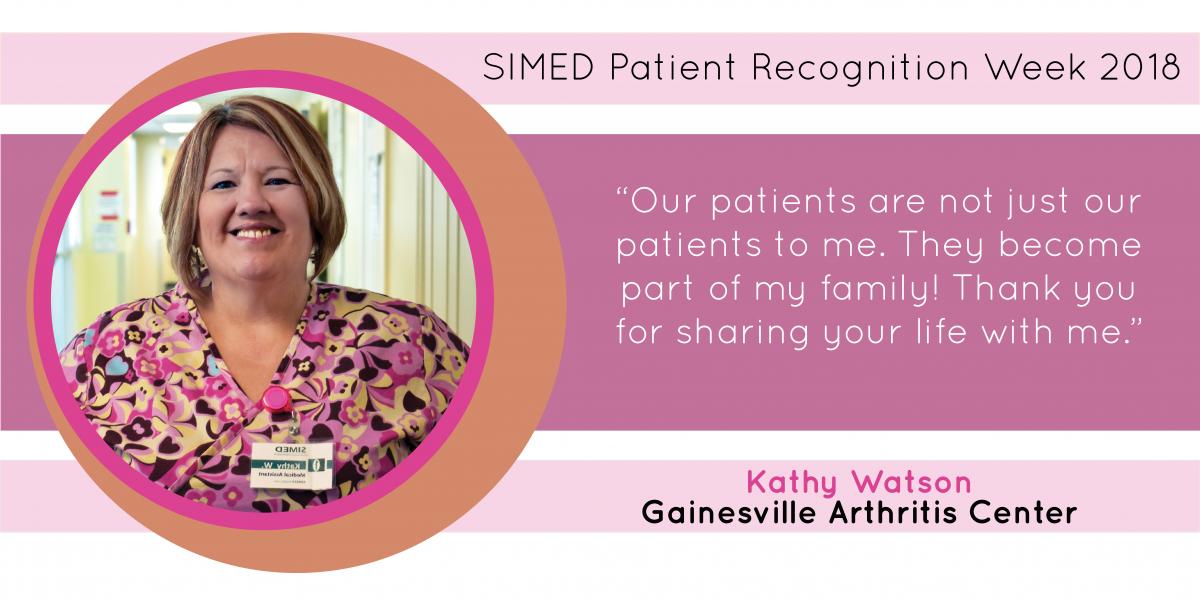 Schedule an appointment with SIMED Rheumatology in Gainesville at (352) 378-5173 or online.
3. Sharon Schaefer, SIMED Ocala Allergy & Asthma
"I got into health care so I could make a difference in someone's life. I never thought it would be the other way around! My life has been changed and blessed because of my patients."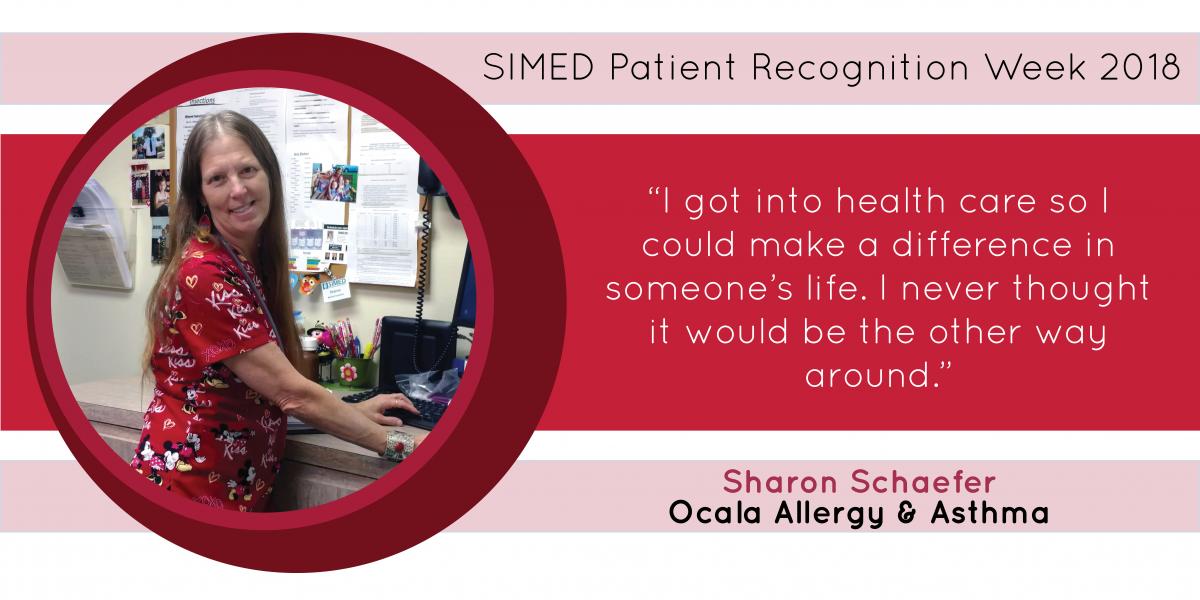 Schedule an appointment with SIMED Allergy & Asthma in Ocala by calling (352) 547-1016 or request an appointment online.
4. Kelly Brown, Chiefland Primary Care
"I appreciate our patients for allowing and trusting me with their healthcare needs. They are the reason I get to come to work and do what I love. It's a great feeling to know I was ablt to help them."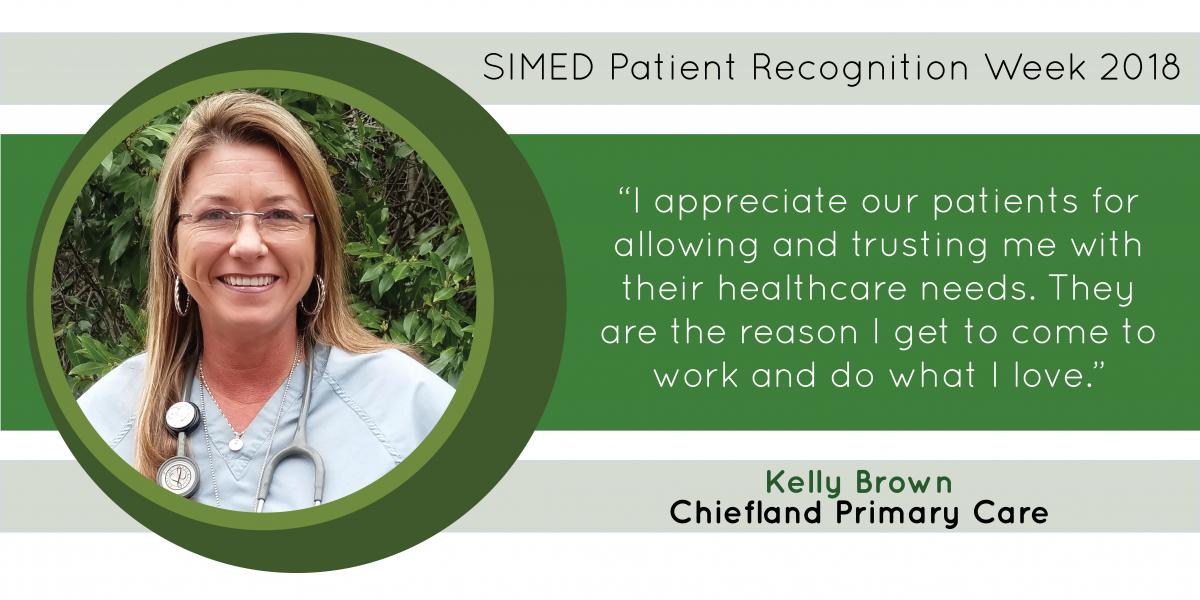 Schedule an appointment with SIMED Chiefland Primary Care at (352) 490-5100 or online.
5. Judea Wanton, SIMED Gainesville Pulmonology, Suite 6
"Thank you for your part in my journey. I wouldn't be here without you. Happy Patient Recognition Week!"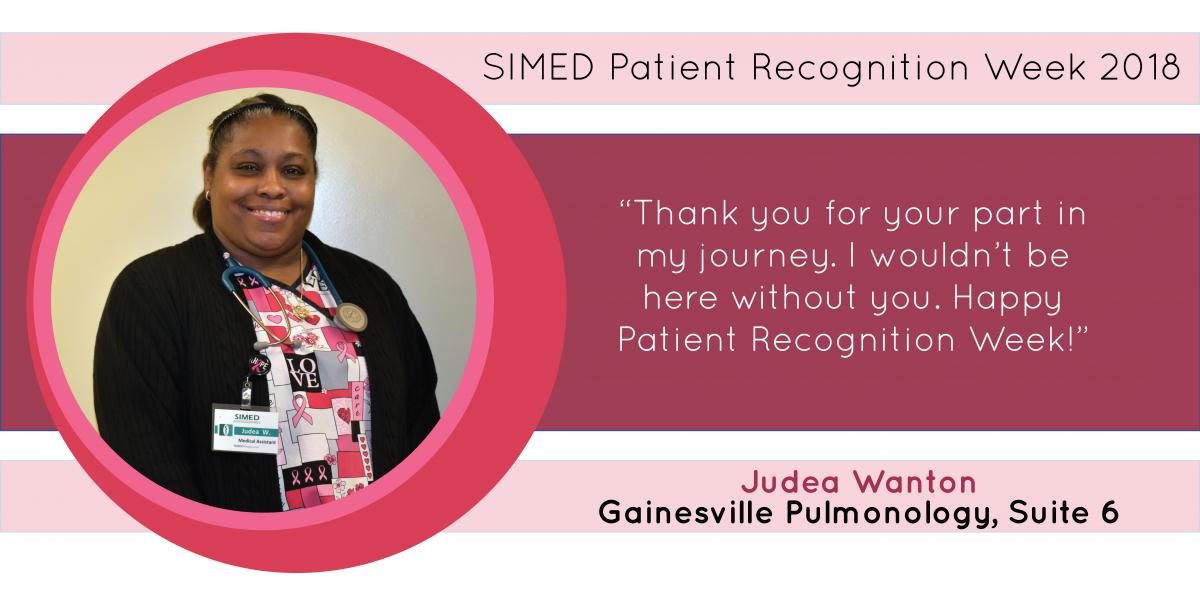 You can schedule an appointment with SIMED Pulmonology by calling (352) 375-0302 or requesting an appointment online.
Ask any of our staff members, and with a smile, they'll tell you something great about SIMED patients. You all are truly the best. While we may not tell you every day, we couldn't think of anyone else we'd rather have in our family. So, Happy Patient Recognition Week!