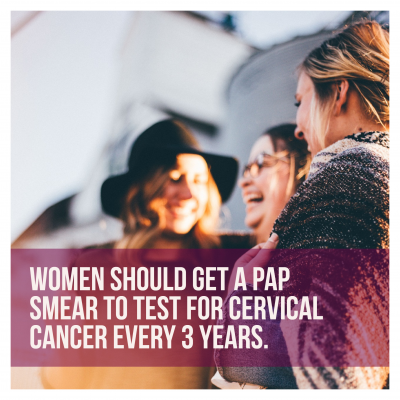 January is Cervical Health Awareness Month. Cervical cancer was once one of the most common causes of cancer death for American women, but now it can be easily prevented with vaccinations and regular screenings.
Learn more about cervical cancer and cervical health with SIMED Ocala Women's Health Physician, Dr. Oscar Osorio.
1. What exactly is cervical cancer?
Cancer is an abnormal growth of cells on any tissue. The growth is invasive and spreads to adjacent and distant organs, causing damage to tissues. Cervical cancer is cancer of the "tip" or distal area of the uterus.
2. What part of the body is the cervix?
The cervix is the lower, neck-part of the uterus that leads to the vagina. It is where the menstrual flow exits the uterus. The cervix is accessible and seen in the vagina during a gynecologic exam.
3. Who is cervical cancer common in?
Cervical cancer is caused by the HPV virus. The HPV virus is a sexually acquired organism that infects the cervical cells, potentially causing cancer. Although the virus is most common in younger women, teenagers, and women in their early 20s, cervical cancer itself is more common in women older than 30. Women who smoke are at increased risk, as are women with immune deficiencies and those with HIV infection.
4. What is a cervical screening? How does it work?

A cervical screening is a test designed to identify HPV infections on the cervix in early stages, and thus, avoid progression of the disease to cancer. If cervical cancer is identified, the patient will receive treatment and will be put under surveillance as needed.  You can get tested for cervical cancer with a Pap smear.
5. How often should people get a cervical screening?
Screenings with pap smear should start at age 21, and current recommendations state a pap smear should be performed at least every 3 years.
6. How else can people avoid cervical cancer?
Other than getting a pap smear as recommended, because HPV is a sexually acquired disease, using condoms could potentially decrease risk. Additionally, refraining from smoking could also reduce the risk. Because cervical cancer is linked to HPV, you should also get vaccinated against HPV. The Centers for Disease Control and Prevention recommend vaccination at ages 11-12, but women can be vaccinated up to age 26.
7. Aside from a screening, what symptoms might indicate someone has cervical cancer?
Early cervical cancer is mostly free of symptoms. One of the most common symptoms, though, is abnormal vaginal bleeding, especially after or during intercourse.
Have you gotten screened for cervical cancer? You can get a screening at the SIMED Women's Health clinics in Gainesville, Ocala, Lake City, Chiefland, or Lady Lake.
To schedule an appointment, call:
Gainesville, Lake City, Chiefland: (352) 331-1000
Ocala, Lady Lake: (352) 391-6464
Or you can request an appointment online.
If you would like to schedule an appointment specifically with Dr. Osorio in Lady Lake or Ocala, call (352) 391-6464 or request an appointment online.