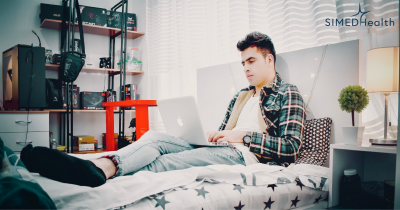 Everyone needs sleep. Humans spend roughly 33 years of their lives sleeping. Without sleep, we can't function and without quality sleep, we can't function to the best of our abilities. March 11th through the 15th is National Sleep Awareness Week and we sat down with Dr. Galina to discuss why sleep is so important and she gave us some easy, simple things we can do to get better sleep.
HOW DOES LACK OF SLEEP AFFECT HOW YOU LIVE?
According to Dr. Galina Bogorodskaya, lack of sleep or sleep deprivation can increase anxiety. An average of 7-9 hours of sleep for an adult is essential for overall health. Inadequate sleep is associated with several health problems leading to chronic diseases such as high blood pressure, heart disease, obesity, and diabetes. Other potential problems from lack of include depression and lower sex drive which can significantly affect your personal as well as your social life.
 HOW WOULD YOU DEFINE POOR QUALITY SLEEP?
You tend to have a poor quality of sleep if you take more than 30 minutes to fall asleep, you regularly wake up more than once per night, and you find yourself staying awake for more than 20 minutes before falling back to sleep after waking up in the middle of the night. Other factors can be noticed best by your bed partner such as you snore loudly, you make gasping and choking sounds during your sleep and you act out in your sleep or dream.
IS THERE A MAJOR DIFFERENCE BETWEEN SLEEP AND QUALITY SLEEP?
It's good to start with a good quantity of sleep, 7-9 hours for adults where children and young adults need more. The most important factor in quality sleep, however, is how fresh you feel the next day. If you still feel tired, fatigue, yawning and depressed after good hours of sleep, it is time to see a sleep specialist and discuss your problems.
WHAT ARE SOME TIPS FOR GETTING QUALITY SLEEP?
Use your bed for only 3 things, Sleep, Sickness and Sex. Avoid watching television or using electronic devices in bed. Stop such devices at least 30 minutes before bedtime. Follow a consistent sleep schedule. Try to keep your bedroom clean and avoid any distractions such as posters, to do lists, deadlines to stop you from falling asleep.  Eat your meal at least 3 hours prior to your bedtime.  Stop drinking caffeine after noon time and limit alcohol consumption to 1 or 2 drinks per day.
WHAT ARE SOME OTHER THINGS YOU TREAT AT THE SIMEDHEALTH SLEEP CENTER?
In the sleep center, we start with extensive consultation and evaluation of your sleep problems and concerns with our Board Certified sleep specialists. Based on the consultation, we perform a sleep study, if needed, to diagnose and treat your sleep problems. Such problems include but not limited to Obstructive sleep apnea (snoring, stopping breathing), Periodic limb movements (kicking legs at night), Insomnia, Narcolepsy, Bruxism, and many more. For more information or to schedule an appointment click here.