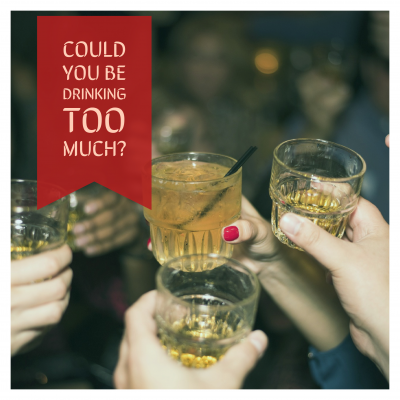 National Drug and Alcohol Facts Week is a health observance week to clarify the truths and myths about drug and alcohol use. SIMED Gainesville Urgent Care physician, Dr. Scott Wilson, shared important information on drugs and alcohol.
Alcohol Facts:
A standard drink is:
- A 12 ounce bottle of beer (about 5% alcohol)
- 8 ounces of malt liquor – beer with a high alcohol content (about 7% alcohol)
- 5 ounces of table wine (about 12% alcohol)
- 1.5 ounces (a "shot") of liquor, like gin, rum, vodka, tequila, or whiskey (about 40% alcohol)
Moderate alcohol consumption: Moderate drinking is up to 1 drink per day for women and up to 2 drinks per day for men, according to a report by the US Department of Agriculture and US Department of Health.
Binge Drinking: Binge drinking typically occurs after 4 drinks for women and 5 drinks for men—in about 2 hours. NIAAA defines binge drinking as a pattern of drinking that brings blood alcohol concentration (BAC) levels to 0.08 g/dL.
Heavy Alcohol Use: The Substance Abuse and Mental Health Services Administration defines heavy alcohol use as binge drinking on 5 or more days in the past month
Certain people should avoid alcohol completely, including those who:
1. Plan to drive a vehicle or operate machinery
2. Take medications that interact with alcohol
3. Have a medical condition that alcohol can aggravate
4/ Are pregnant or trying to become pregnant
Short-Term Consequences of Intoxication (being "drunk"):
1. An intoxicated person has a harder time making good decisions.
2. A person is less aware that his/her behavior may be inappropriate or risky.
3. A person may be more likely to engage in risky behavior, including drinking and driving, sexual activity (like unprotected sex) and aggressive or violent behavior.
4. A person is less likely to recognize potential danger.
Long-Term Consequences of Binge Alcohol Use or Use of Alcohol in Large Amounts: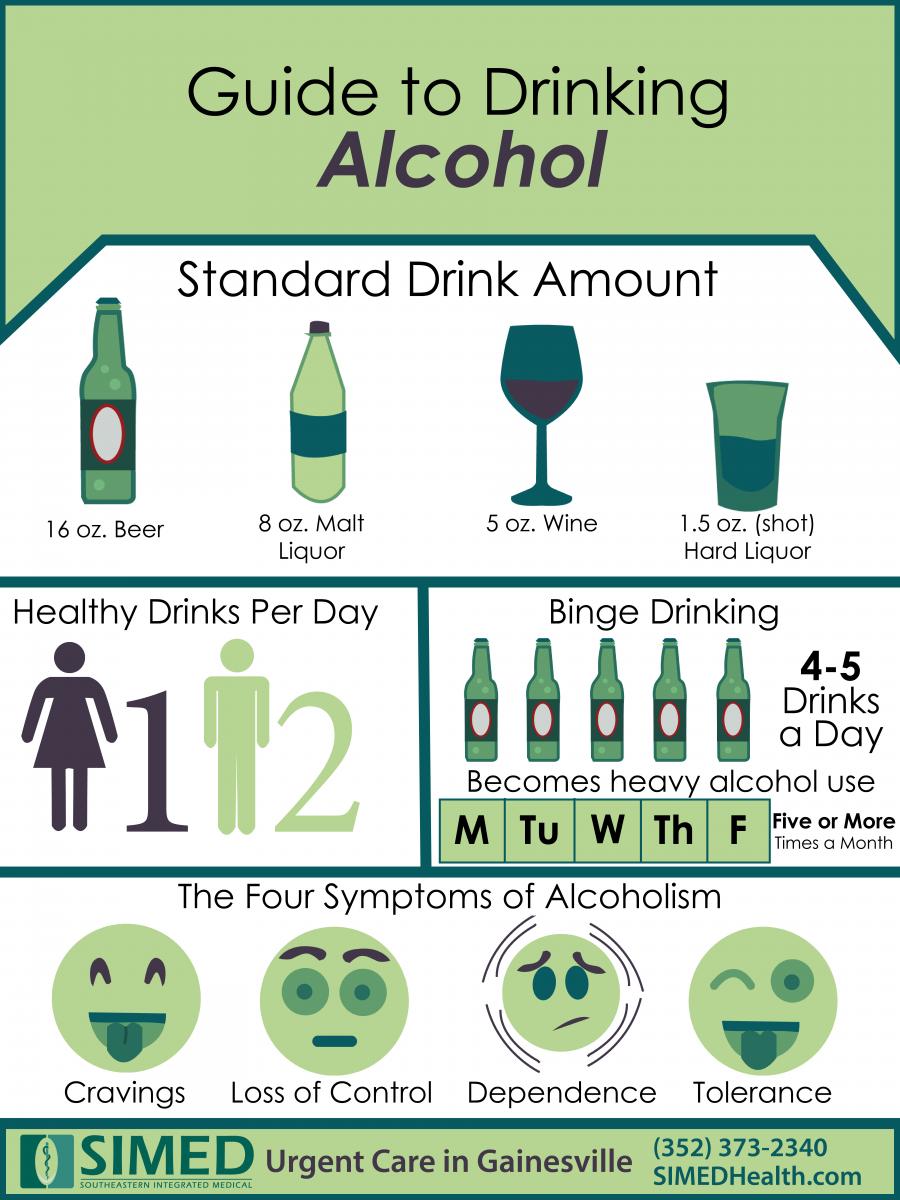 1. Unintentional injuries such as car crash, falls, burns, drowning
2. Intentional injuries such as firearm injuries, sexual assault, domestic violence
3. Increased on-the-job injuries and loss of productivity
4. Increased family problems, broken relationships
5. High blood pressure, stroke, and other heart-related diseases
6. Liver disease
7. Nerve damage
8. Sexual problems
9. Permanent damage to the brain
10. Vitamin B1 deficiency, which can lead to a disorder characterized by amnesia, apathy and disorientation
11. Ulcers
12. Gastritis (inflammation of stomach walls)
13. Malnutrition
14. Cancer of the mouth and throat
Alcohol poisoning occurs when there is so much alcohol in a person's bloodstream that areas of the brain controlling basic life-support systems—such as breathing, heart rate, and temperature control—begin to shut down. Symptoms of alcohol poisoning include: confusion, difficulty remaining conscious, vomiting, seizures, trouble with breathing, slow heart rate, clammy skin, dulled responses, such as no gag reflex (which prevents choking), extremely low body temperature and finally, death.
Alcoholism or Alcohol Dependence consists of four symptoms:
·         Craving: a strong need, or compulsion, to drink.
·         Loss of control: the inability to limit one's drinking on any given occasion.
·         Physical dependence: withdrawal symptoms, such as nausea, sweating, shakiness and anxiety, occur when alcohol use is stopped after a period of heavy drinking. Serious dependence can lead to life-threatening withdrawal symptoms including convulsions, starting eight to twelve hours after the last drink. The delirium tremens (D.T.'s) begins three to four days later where the person becomes extremely agitated, shakes, hallucinates and loses touch with reality.
·         Tolerance: the need to drink greater amounts of alcohol in order to get high.
Drug Facts:
Drug Addiction is a chronic disease/disorder in which there is drug seeking and compulsive (difficult to control) use of a drug(s) despite the harmful physical and social consequences
Drug addiction risk is made up of a combination of factors such as:
(a) Genetics-genes that you are born with can make up about 50 % risk of developing addiction
(b) Environment-the influence of family, friends, economic status, quality of life
(c) Development-there are critical developmental stages in a person's life that may be affected by use of drugs which will lead to addiction
Effects of Drug Use on the Brain:
Initial Effects: The initial effects of drug use on the brain is directed at the brain's pleasure/reward circuit. The drug causes the release of large amounts of Dopamine, a chemical messenger in the brain that controls the body's ability to feel pleasure and motivates the person to repeat behaviors needed to thrive such as eating and spending time with people we love. If you overstimulate this reward/pleasure circuit with drug use, this creates an intense pleasurable high that can lead people to take the drug again and again to achieve that high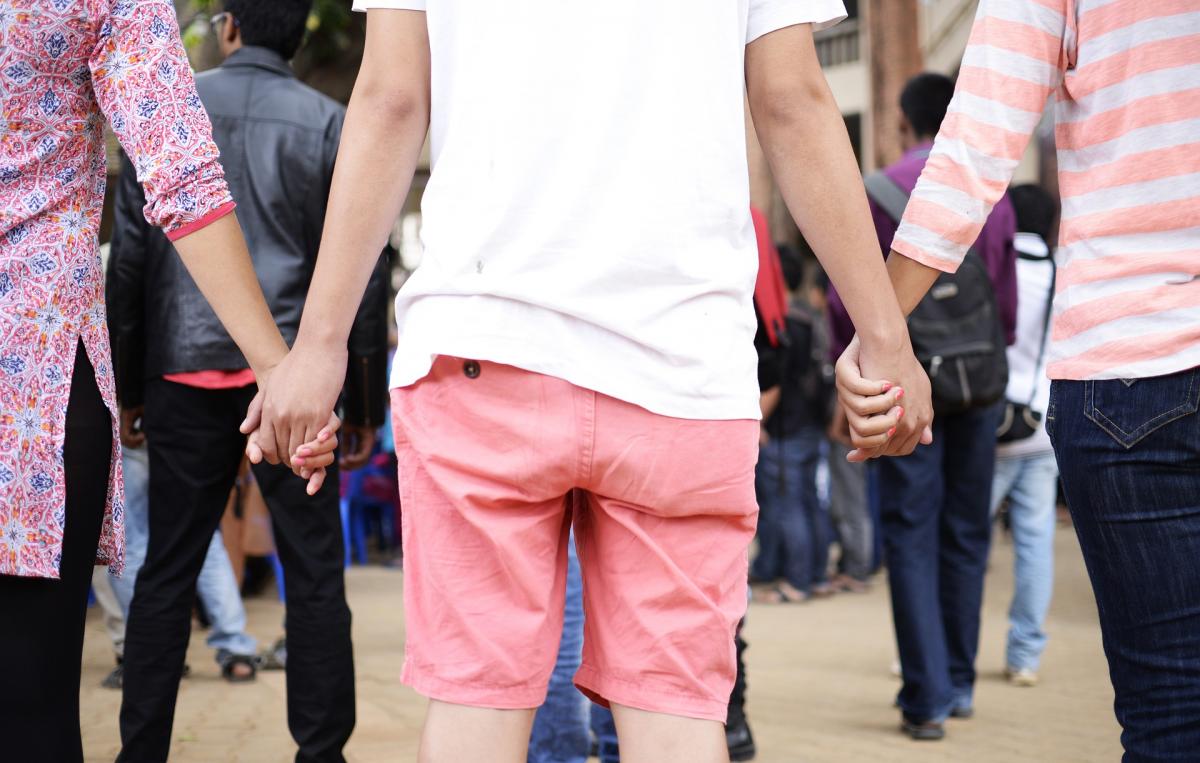 Tolerance: As drug use continues, the brain adjusts to the presence of excess dopamine by either making less of the dopamine and/or reducing the ability of the brain cells to respond to the dopamine. This reduces the high the person feels with continued use of the drug leading to tolerance. Tolerance leads the person to use more of the drug to achieve the same initial intense pleasurable high.
Long -Term Effects: The long-term use of drugs causes changes in the other chemicals in the brain leading to problems with: (a) Behavior, (b) Learning, (c) Memory, (d) Decision Making, (e) Judgement, and (f) Dealing with Stress. Repeated drug use leading to these changes in the brain that challenge an addicted person's self-control and interfere with their ability to resist intense urges to take drugs. These brain changes can be persistent, which is why drug addiction is considered a "relapsing" disease—people in recovery from drug use disorders are at increased risk for returning to drug use even after years of not taking the drug.
Drug use/addiction is a treatable and managed condition. Drug use/Addiction are also preventable with involvement of parents, teachers, and health care providers in the education of young people to the hazards/pitfalls of drug use/addiction.
If you have a drug or alcohol problem, seek help from a SIMED Primary Care or Urgent Care physician. SIMED Primary Care doctors in Gainesville, Ocala, McIntosh, Lady Lake, Lake City, and Chiefland are available at (352) 224-2225. SIMED First Care Urgent Care takes walk-ins, but you can also schedule an appointment with Dr. Scott Wilson or another urgent care physician at (352) 373-2340. You can also request an appointment online for SIMED Primary Care and SIMED Urgent Care.