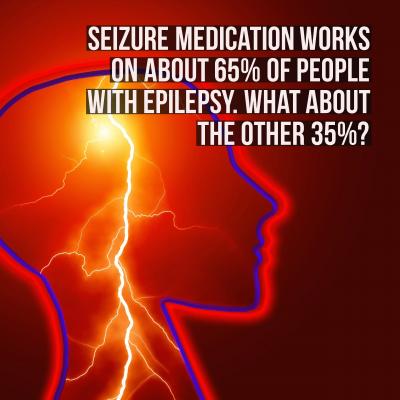 For Epilepsy Awareness Month (November), we interviewed SIMED Neurologist Dr. Kraiyuth Vongxaiburana (Vong) to find out what epilepsy is and how it's treated. But, to understand epilepsy, you must first be able to recognize the signs and symptoms of a seizure.
What is a Seizure?
A seizure is a surge of abnormal electrical discharges in the brain that disrupt normal brainwave patterns. Seizures can manifest in different ways, and Dr. Vong discussed two of them: a generalized seizure and a complex partial seizure.
Generalized Seizures
The most obvious manifestation is a surge of abnormal discharges throughout the brain. The patient loses consciousness and has a convulsion. They may become really stiff at first and draw their arms up. Then, they might begin to shake. The convulsion could end up lasting a minute or two. During that time, the person might lose control of their bladder or bite their tongue. To bystanders, the seizure should be obvious.
Complex Partial Seizure
This type of seizure is less obvious. The abnormal electrical activity is localized to one part of the brain and not generalized. The person might not have convulsions but might instead stare into space and have an oral or manual automatism. They might make repetitive movements with their mouth or hands, like fiddling with their clothes or the buttons on their clothing and smacking their lips.
What they're doing might look semi-purposeful. Because their eyes are open, you might think they're awake, but they don't respond and aren't actually aware of what's happening. They might smell a smell that isn't there or experience a rollercoaster sensation in their stomach. They might also feel a sense of déjà vu. If the seizure starts in one part of the brain and spreads to other parts, it can lead to a convulsion.
What is Epilepsy?
About 9 to 10 percent of people have a seizure in their lifetime which is about the same amount of people who are left handed, so it's pretty common. But having a one-time seizure doesn't diagnose epilepsy. Epilepsy is usually diagnosed if someone has more than one unprovoked seizure. Someone could also be diagnosed with epilepsy if they have one unprovoked seizure and have high risk for another, a brain tumor, or a brain abnormality.
Unprovoked seizures are not caused by external factors, like low sodium, meningitis, or alcohol withdrawal. If someone had multiple triggered seizures resulting from another factor, they would not be diagnosed with a seizure disorder or epilepsy. Dr. Vong estimates about 3% of people will be diagnosed with epilepsy at one point in their lifetime.
How is Epilepsy Diagnosed or Monitored?
When someone has a seizure, doctors look for a provoking factor. Doctors check for abnormalities in the bloodwork like low sodium and evidence of drugs as drug withdrawal could provoke a seizure.
The individual might get imaging done on their brain including an MRI or a CT scan that could indicate previous strokes or a brain tumor. An EEG, which is a test that monitors brainwaves, can indicate abnormal activity and discharges that would provoke a seizure. People might also get additional tests depending on their situation. Testing can indicate if a patient is at higher risk of having another seizure.
What are the Causes of Epilepsy?
Some forms of epilepsy are genetic and tend to run in families. Other times, people might have abnormalities in their brain or their brain can be formed differently.  Abnormal areas in the brain can initiate seizures, and temporal scarring can also trigger them. If patients had a stroke in the past, they have a greater risk of getting epilepsy.
How is Epilepsy Treated?
If a patient is diagnosed with epilepsy, they are put on antiepileptic or antiseizure medications. The medications decrease risk and prevent those individuals from having another seizure. About 60 to 65% of people on the medication can successfully control their seizures with the drugs; however, about 35% of people still have seizures despite taking the antiepileptic drugs.
What if the Medication Does Not Work?
Patients who do not respond to the drug have stubborn or intractable epilepsy. If someone has a seizure that isn't controlled by medicine, they might have other forms of convulsions. For example, if the person has been under a lot of stress they might have a pseudoseizure, a convulsion that looks like a seizure but isn't. Instead, the action is more of a psychological response to stress.
Determining whether or not the individual has a seizure is important because if they do not have a true seizure, they should not continue to take the seizure medication. Instead, they could see a psychologist who might help tease out the person's stressors.
Another reason people adverse to the medication should be monitored is to indicate whether the seizures can be prevented with surgery. If you can see on the EEG that the seizure starts at the same place in the brain every time, the person might get seizure surgery which could cure them of their epilepsy. Most patients won't need surgery and can be controlled with seizure medication, though.
What is the Difference Between a Stroke and a Seizure?
A stroke results from damage to the brain that blocks blood flow to the brain. In contrast, a seizure is an abnormal electrical event in the brain. Strokes can increase the risk of seizures and sometimes even cause seizures. Seizures can also mimic strokes. A specific type of seizure makes one side of the body weak.
What Age is Epilepsy Most Commonly Diagnosed At?
Epilepsy is diagnosed in all ages from infancy through adulthood. While the reasons people have seizures might differ, epilepsy can affect anybody.
Have you had a stroke, a seizure, or multiple seizures in the past? Speak with your primary care doctor or call SIMED Neurology in Gainesville at 352-224-2338 to get tested for epilepsy.
To schedule an appointment with Dr. Vong or another SIMED neurologist, call 352-374-2222 or request an appointment online.