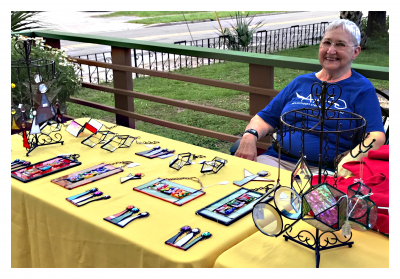 Each month, SIMED recognizes one of the Gainesville Fine Art Association artists featured in the SIMED central hub (4343 W Newberry Road) as the Artist of the Month.
Artist of the Month (February 2018): Barbara Wakefield
Barbara Wakefield, stained glass artist, made her way from the cold of Wisconsin to the warmth of South Florida in 1968 where she flew high as an aerobatic flight instructor of open cockpit planes. She built a single seat Pitts special and earned a mechanic's license. She then flew the open cockpit planes up and down the east coast of the United States before discovering pottery one night when she agreed to attend a night school pottery class with her persistent friend. Surprised by the feel of her hands in wet clay, Barbara threw herself into 'throwing' clay onto a wheel and became proficient in shaping clay vessels of various shapes and sizes. She grew to love color as she worked on glazing the clay pieces.
After years of successful festivals all over South Florida that involved Barbara hauling the heavy clay product around the state, Barbara transferred her love for rich colors from pottery to colorful stained-glass art. Seeing the light illuminate the rich colors captured her imagination and creative spirit.
Soon after arriving in North Central Florida in 1990, Wakefield completed a week-long private comprehensive workshop with an established area stained glass artist, Frank James. With an open mind for learning about stained glass, she absorbed all that he taught.
Wakefield translates interesting shapes from her natural surroundings into her appealing colorful glass art designs. Today her work is half and half – half her own designs and half available designs. The resulting pieces are colorful, attention grabbing glassworks. The way the natural light floats through her beautifully crafted glass pieces is a pleasure for the viewer.
Barbara mastered her craft, and she is still flying high on the enthusiasm of having her work in area group art shows and in the Gainesville Fine Arts Gallery on South Main Street where her pieces attract attention and positive comments. Her works continue to find new homes where they give their collectors daily pleasure and enjoyment.
To view Barbara Wakefield's art and the art of others in the GFAA, visit SIMED's Gainesville location today where you can see Li's art featured prominently in the front atrium during the month of January 2018.