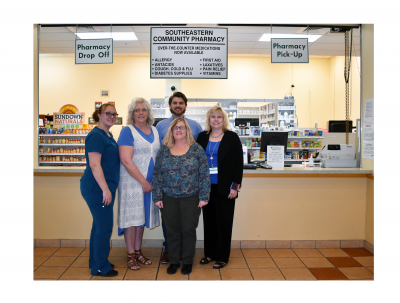 January 12 is National Pharmacist Day, and Lynn Bennett, the Southeastern Community Pharmacy Director in Gainesville, provided helpful tips to improve patient experience while at the pharmacy and when taking medication.
Common Topics to Discuss with Pharmacist
1. Side Effects and Drug Interactions
2. How to use an Inhaler
3. When to take medication
4. Whether to take medication with food
5. Why they don't have refills
6. If they can get all their medication to come out at the same time
7. Many medications cannot be taken together. You should discuss that with your pharmacist.
How to Make Your Pharmacy Visit Quick and Easy
1. Bring your insurance card and ID.
2. Call ahead or order refills on the SIMEDHealth website.
3. Sign up for automatic refills on chronic medications.
Tips for Taking Medication
1. Use pill boxes with the date and times on them.
2. Keep a list of all the medication you take with you at all times.
3. Sign up for Medication Therapy Management through your insurance to improve the effectiveness of your medications.
Learn more about the Southeastern Community Pharmacy on their website page, or you can sign up for a prescription refill online.
The Southeastern Community Pharmacy is a full-service pharmacy in the Gainesville Medical Center that provides an extensive amount of medications at affordable prices.