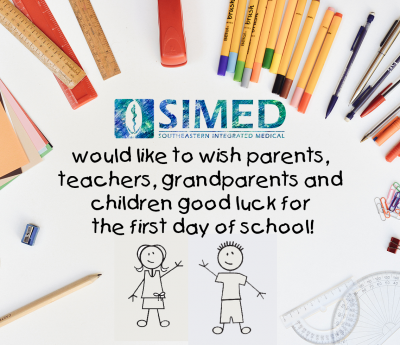 School is starting soon, and it's important for both parents and children to feel prepared for the change in routine that comes from starting a new school year. 
1. Enforce a regular sleeping schedule
During the summer, your children might become accustomed to getting up later, so it's important to get them adjusted to going to bed at a reasonable time, even weeks before school starts.
Children should get at least 8 hours of sleep (preferably more) each night. Get into the habit of enforcing your child's bedtime. Children should have regular sleep and wake times.
Put rules into place and make sure your children understand it's important to follow them. For example, parents can make sure children don't use technology after a certain time by creating a spot on the kitchen counter where children have to place their devices when it's time to go to bed. The children can then get the devices back in the morning.
Parents: You should also adjust your sleeping habits to ensure you get a good night's sleep when you have to wake up early to get your children ready for school.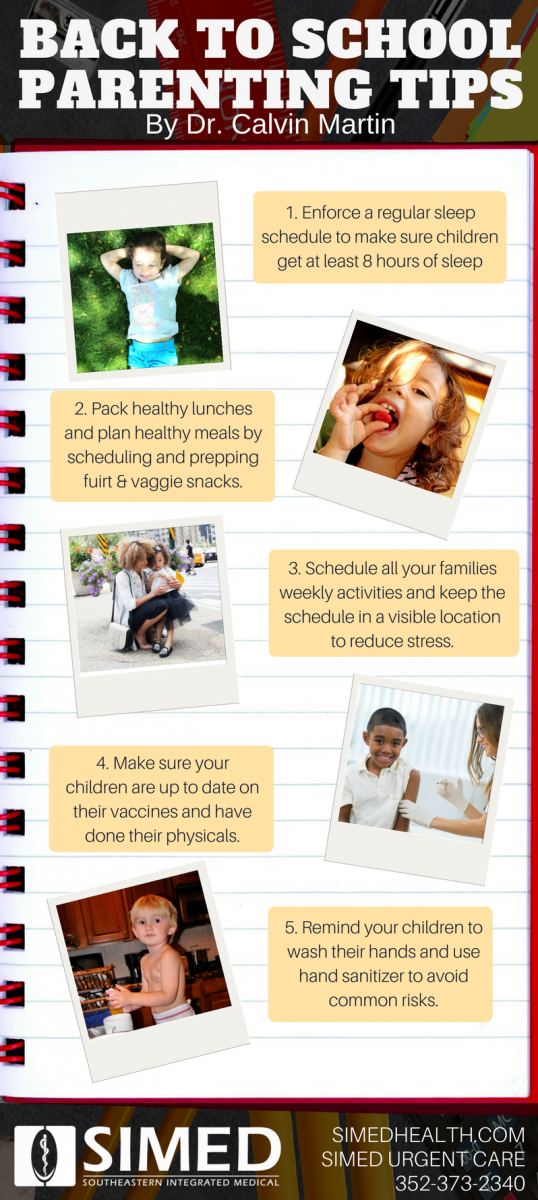 2. Pack healthy lunches and plan healthy meals
Make sure to prepare good quality food to pack for your children's lunches.
One way you can ensure your child has healthy meals each day is to plan those meals in advance. If you know your schedule you can plan to make food ahead of time in preparation for busy days and plan when to cook. 
Avoid fast food, and don't let children drink caffeine (like soda) later in the day. 
Create alternatives for unhealthy snacks and make them easily accessible. For example, prepare portions of fruit wedges or vegetable slices and leave them in baggies in the fridge.
If your children eat school lunches, make sure what you're feeding them at home compensates for the lack of nutrition. 
3. Schedule everything
Scheduling can be helpful to make sure you don't forget about anything. You can schedule your grocery trips, your children's practices, your children's rehearsals and other weekly activity to make sure you maximize your own time and avoid burnout. 
Make lists or keep a schedule on the fridge that has information about who is going to be where and when. Making schedules can reduce stress, and schedules offer a way for parents to quickly look up what they're doing so they don't forget anything.
Having everything organized and everyone's schedule in one place can make school days easier for the whole family.
4. Make sure your children get their school physicals
5. Remind your children about common risks
Make sure your children know to use hand sanitizer and wash their hands.  This could help them avoid diseases.
Children should understand that they need to wash their hands after using the restroom and before and after eating if they show any symptoms or signs of infection. Children should also be careful to wash their hands after gym class. 
It's useful to buy your child a small bottle of portable hand sanitizer they can use in emergencies.
When children wash their hands make sure they know to use soap and water and wash for at least 30 seconds or however long it takes them to say the entire alphabet.
As the new school year approaches, it's important for both parents and children to get into healthy habits. These tips will ensure you and your children are best prepared for staying healthy during the school year.