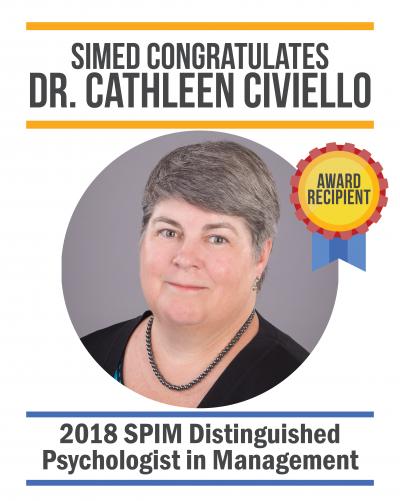 SIMED is pleased to announce that Cathleen Civiello PhD, the most recent addition to the SIMED Health Psychology team has won the 2018 Distinguished Psychologist in Management (DPIM) Award presented by the Society of Psychologists in Management (SPIM).
The Distinguished Psychologist in Management Award "recognizes outstanding contributions to the practice of management by a psychologist." Awarded annually, its highly selective nomination process results in an honoree who has developed practices that "have a major impact on people in organizational settings and/or on the professions of management."
Dr. Civiello was recognized for her work using clinical psychology to affect a cultural change in intelligence agencies. Previously, she won the "Mentor of the Year" Award from an organization with more than 60,000 employees. She also received an award from President Barack Obama for her work.
Dr. Civiello once served as president of SPIM. In her first SPIM meeting, she sat next to Dr. Harry Levinson who was the first DPIM recipient in 1985. Many consider Dr. Levinson to be the father of managerial psychology and the application of psychology in organizations.
"It was humbling to have been nominated for and even more so to have been selected for this same DPIM award," Dr. Civiello said. "Although the psychologist who nominated me for the DPIM award primarily used my work in the past 30 years, he also commented on my transition to SIMED."
"From the time I began interviewing for a position in SIMED, I was attracted to the organization because SIMED leaders and clinical staff, in our integrated care model, apply good management in a way that enhances patient care and patient health."
As the recipient of this year's award, Dr. Civiello will present a lecture at SPIM's annual convention in February about her work at SIMED and how leadership and management science informs clinical work.
"Dr. Civiello winning the Distinguished Psychologist in Management Award is well earned," said Dr. Daniel Duncanson, SIMED CEO. "She has dedicated her career to helping others through difficult times and her commitment to the field of Psychology and to serving our veterans should be applauded by all."
"Her personality, background and professional skills make her a wonderful addition to the SIMED team.  We are thrilled she chose to relocate to North Central Florida for this next phase of her career."
To learn more about Dr. Civiello or schedule your appointment with our SIMED Health Psychology team, visit us here. You can also call (352) 331-9441 for our Gainesville and Chiefland locations or (352) 732-3110 for our Ocala and Lady Lake locations.