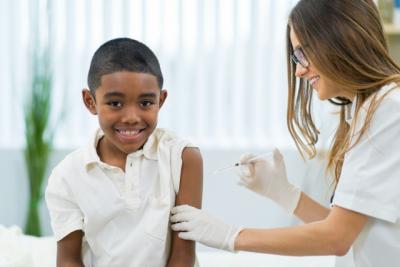 August is National Immunization Awareness Month (NIAM) The goal of NIAM is to increase awareness about immunizations across the lifespan, from infants to the elderly. August is an ideal time to make sure everyone is up-to-date on vaccines before heading back to school and to plan ahead to receive flu vaccine. Getting vaccinated is an easy way to stay healthy all year round. During the month of August, take the time to make sure that you and your loved ones have received all of the vaccinations you need.

- "National Immunization Awareness Month." Vaccines.gov
Dr. David Lefkowitz, a Family Medicine physician at SIMED Primary Care answers some questions and brings some light on the importance of immunizations and how they prevent you and your family from getting sick.
1. Will you give a brief explanation of what immunizations are?
Immunizations are the "shots" we have all come to expect when we go to the pediatrician; they are also called vaccines. Of course, these vaccines are not just for kids but are recommended for adults as well. Vaccines stimulate your own immune system to create antibodies against diseases.
2. Why is it important to get vaccinated?
There are two reasons:
One, it helps protect you from getting severely sick from the bacteria or virus you are getting vaccinated against. Having antibodies ready-to-go is like having an army of soldier's ready-to-fight the disease as soon as possible.
Second, it helps protect folks who can't get vaccinated (for example patients who are on chemotherapy) by decreasing the potential spread of disease to them.
3. What are some of the most common immunizations?
The most common immunizations depends on whether the vaccines are for children or adults.
For children, some common vaccines include Hepatitis A and B, MMR (Measles, Mumps, and Rubella), Polio, Varicella-Zoster (Chicken Pox), Diphtheria, Tetanus and the Flu vaccines.
As for adults, the most common vaccines include Flu shots, Pneumonia shots, the Shingles shot, Hepatitis A & B and Tetanus boosters. Of course there are many other vaccines but these are the most common.
4. How can someone get a vaccination?
A visit to their primary care doctor is usually all that is needed. Some of the less commonly used vaccines, for example those associated with traveling to third world countries may not be carried at your primary care office. However these can commonly be ordered in to receive at a later time, or the local health department can be a good source of the travel vaccines.
5. Can a shot make you sick?
It is possible, but thankfully rare. The overall benefits of vaccinations clearly outweigh the possible short term risks. However, local reactions (arm soreness, redness, and swelling) can be seen but are not dangerous and usually resolve on their own after a short period of time. Low grade fevers can be seen for the first 24-48 hours following immunization.
6. What are some other preventative ways of not getting sick?
Wash hands, wash hands, wash hands! Avoid close contact with people who are sick. Be sure to cover your mouth and nose when you cough, try not to touch your eyes, nose or mouth. To avoid spreading the sickness, stay home from work if you are sick.
7. Why do some vaccines require boosters?
When you get a vaccine, your immune system makes antibodies. Over time, these antibodies can decrease in number. A booster shot does what it sounds like: it "boosts" the number of antibodies so that you have plenty of soldiers to fight the disease.
8. Why is there a new flu vaccine every year?
The influenza virus is a tricky one. It has the ability to mutate into many different strains. Each year, the CDC (Center for Disease Control) decides which strains will be prevalent for the upcoming flu season and puts those strains into the flu vaccine. It's somewhat of a guessing game (more a prediction based on data) but there's no other way to manufacture millions of vaccines in time for flu season.
9. How do vaccines fight viruses and bacteria?
The Vaccines do not actually fight any viruses or bacteria off, they stimulate your own body's immune system to fight off the disease. Your immune system recognizes the vaccine as "foreign" and it makes antibodies against the vaccine thus strengthening your own body's immune system. These antibodies are then ready to fight the real disease if it gets into the body. SIMED Primary Care offers a variety of vaccinations to patients in our North Central Florida community. Here is a list of the most common vaccinations offered:
Influenza (Flu)
Hepatitis A
Hepatitis B
Pneumovax - 23 (Pneumococcal bacteria)
Prevnar - 13 (Pneumococcal bacteria)
Gardasil (HPV)
Varicella (Chicken Pox)
Zostavax (Shingles)
Tetanus, Diphtheria, Pertussis (Tdap)
Menomune/ Meningitis
Typhoid
Schedule an appointment with Dr. David Lefkowitz or any of our SIMED Primary Care physicians at one of our locations in Gainesville, Ocala, Chiefland, McIntosh, and Lady Lake (The Villages) to review what immunizations are appropriate for you or your family. Click here to request an appointment online.