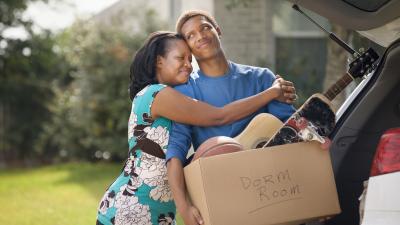 The start of a new college semester can be a very exciting time in a young adult's life. It's the beginning of a new chapter in one's journey through college, filled with new classes, living arrangements, friends, jobs, and life experiences. These new experiences will help shape the student's future and mold them into the adults they will become.
For many students a new semester can mean living away from home the first time. This can lead into a very stressful time in a young adult's life and leave students with many questions especially about health and safety. Dr. Calvin Martin of First Care, SIMED's Urgent Care facility gives us a few pointers on how students can tackle their health and safety like an adult.
Staying healthy is a plus:
By living a healthy and active lifestyle young adults will be ahead of the curve in terms of health. Make sure to follow a diet and exercise program keeps one accountable and helps them stay on track with their health plan (Adults on average need around 2 hours and 30 minutes of exercise per week). Avoid sugary drinks such as sodas that may be adding extra empty calories that the body does not need. Think outside the box and get creative on how to sneak some exercise into your daily routine. Walk or jog to class, take the stairs instead of the elevator, ride a bicycle instead of driving, or join an intramural sports team such as flag football, softball, basketball, soccer, tennis or volleyball.
Don't stress it:
According to the CDC (Center of Disease Control) suicide is the 3rd leading cause of death for young adults between the ages of 15 to 24, so feelings of distress or depression are not to be taken lightly. The proper amount of stress is healthy for us as it keeps us on track and motivated but too much stress can lead to unhealthy traits and habits. Ways to manage stress include getting adequate sleep, avoiding drugs and alcohol, get perspective by connecting socially with peers and also making sure to getting enough "me time" for oneself. If feeling overwhelmed from stress it's a good idea to reach out to one's family doctor or contact a local psychologist to help cope with the stress levels.
Stay protected:
The college years may be associated with new or risker sexual activity, leading to increase prevalence of STD's among college students. Many sexually transmitted diseases can be prevented, most are treatable and also curable. According to the CDC nearly half of all new sexually transmitted diseases (STD's) occur amongst young adults under the age of 25. It is advised for sexually active young adults to be tested for STD's including HIV and learn how to protect them and their partners. According to the CDC one in 5 college women have been sexually assaulted. Women are encouraged to protect themselves by staying in groups, never leaving a drink unattended and being aware of resources available to them should they become victim of assault.
Be cautious of the binge:
College life is known for its extracurricular activities including social events that involve alcohol at Greek social parties and bars. The CDC confirmed that 90% of drinking by youth under the age of 21 is binge drinking. Binge drinking is generally defined by 5 or more alcoholic drinks for a male and 4 for a female in a short period of time, usually considered within 2 hours. Binge drinking increase chances of problematic situations because it impairs ability to make decisions and react rapidly to situations which can lead to vehicle crashes, DUI, violence, alcohol poisoning, risky sexual behavior and death.
Just Say No:
One of the most common problems in college amongst young adults is substance abuse and smoking. According to the CDC in 2013 around 21% of 18-25 year olds reported use of illicit drugs in the past month. Heroin use more than doubled among this age group in the past decade. 99% of cigarette smokers have reportedly at least tried smoking by the age of 26. Vaping has recently become very popular as a "safer" smoking alternative, be cautious however because many vaporizer pens have much stronger levels of nicotine intake per inhalation than a cigarette. For need help with substance abuse contacting 1-800-662-HELP can get you in touch with people and information to assist you with recovery.
Establish a health care provider:
Remember it is important stay connected with a primary care doctor, soon after moving into town establish a relationship with a primary care physician. SIMED Primary Care has multiple family medicine and internal medicine physicians to choose making it easy to establish with a doctor and schedule an appointment. SIMED First Care is an urgent care facility located in Gainesville in case of an emergency or if you are just seeking a walk in appointment.
Sources for this article where cited from the CDC Office of Women's Health: Family Health (/family) March 7, 2016 for more information regarding College Health and Safety please visit cdc.gov.