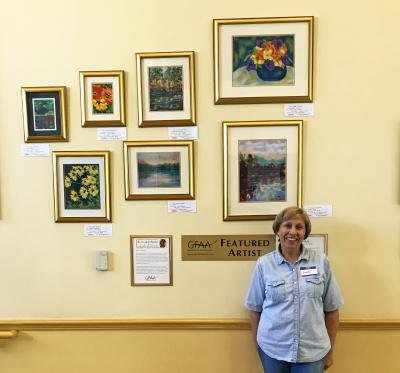 When you stop into the SIMEDHealth 4343 building, light shines through the stained glass artwork hanging in the windows. You'll notice frames of all shapes; sizes and colors line the staircase.
A painting of a dancer watching a performance from the wings of a theater is featured on the largest frame. A watercolor painting of a set of mason jars hangs beside it, followed by a painting of Sandhill cranes flying over a marsh at sunset.
In the midst of the newest arrangement of GFAA artwork, you'll find the work of featured artist Linda Leherman.
Linda grew up in the picturesque Canadian providence of Nova Scotia. She was introduced to art at a young age by her mother, who was also an artist. Here she studied art at the Nova Scotia College of Art and Design. Later, she moved to New York with her husband where she received her master's degree in education and taught elementary school children.
She has been in Gainesville since 2009 and has enjoyed returning to her artistic roots. To this day, Linda says that the colorful and dramatic Nova Scotia landscape of her childhood inspires her work. It's hard not to see this inspiration when viewing her impressionist-style paintings with bright bursts of pastels.
The entire GFAA and SIMEDHealth gallery changes every 3 months and a new artist is featured every month. This new art exhibit, courtesy of the GFAA, features multiple styles of paintings, photography, and sculpture. The GFAA and SIMEDHealth have been in partnership since 2005 to create a positive, uplifting visual experience for SIMEDHealth's patients, employees, and visitors.