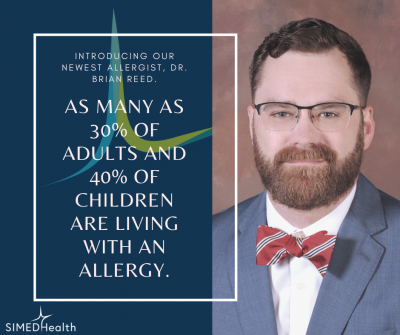 Having an allergy is a prevalent disorder, as many as 30% of adults and 40% of children are living with an allergy. So we talked to our newest allergist, Dr. Brian Reed, about allergies to try and learn as much as we can. 
1. Why do allergies develop?
Dr. Reed says, "The exact reason why environmental and food allergies develop is still unknown but has a genetic component. Interaction with specific cells and the subsequent action on the immune system seem to play a part." Also, patients are more likely to develop an allergy if they have a family history of asthma or allergies, they are a child, or they already have existing allergies. 
2. Why do some people develop allergies later in life and some as children?
Dr. Reed says, "Research at this point reveals multiple influences, including environmental and genetic likely play a part in the timing of symptoms."
3. What are some ways you treat your patients to start controlling allergy symptoms?
"The initial treatment involves avoidance," says Dr. Reed. For example, covering your bed with dust mite encasements for a dust allergy. If avoidance is not enough or impractical, then medications or allergy shots may be an option. Fortunately, there are numerous medications and treatments available, but it's important to discuss all options with a doctor or allergist to find out what will work best. 
4. Is it possible to "grow out" of a food allergy?
"A food allergy can resolve," says Dr. Reed. This is more common for dairy or egg but can occur for shellfish and others. 
Dr. Reed earned his medical degree at the American University of the Caribbean in St. Maarten. He completed his residency in Internal Medicine at the University of Tennessee Graduate School of Medicine. He also completed a fellowship in Allergy & Immunology at the Medical College of Georgia at Augusta University. Dr. Reed is Board Certified Internal Medicine and is available to diagnose and treat adult and pediatric allergy, asthma & immunology conditions.
Dr. Reed adds, "I am excited to join SIMEDHealth and look forward to serving the needs of Gainesville, Chiefland, and the surrounding areas." Click here to schedule an appointment with Dr. Reed!