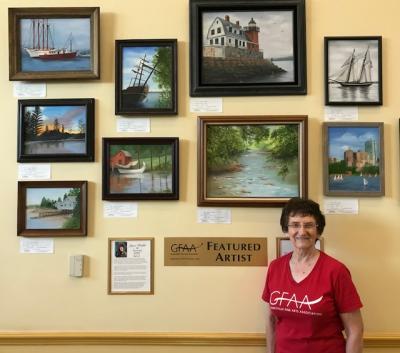 Originally from Missouri, Joyce Hinkle moved down to Ft. Lauderdale, Florida, in 1973. This meant she was able to spend a lot of time at the beach taking in the sandy, palm-filled landscapes.
Hinkle likes to draw her inspiration from nature and from pictures she takes during her travels. So far she's been to the Bahamas, St Croix, Mexico, Canada, France, Corsica, Italy, and most of the United States. Each time she returns to pour her inspiration into her artwork.
"I'm not going to give up until I've seen it all. This summer I will be going to England, Ireland, Scotland, France, and Spain. I plan to take many photos for inspiration to paint," Hinkle said
Her interest in oil painting started in high school. Although she has taken a few classes over the years, she is mostly self-taught. Hinkle enjoys painting still life, pet portraits, and plein air (outdoor) painting. She is currently experimenting with pastels, acrylics, and watercolors.
"I love the great outdoors. There are so many intriguing colors and shapes in nature -- so much beauty to behold. My goal as a painter is to duplicate the beauty of nature to the best of my ability," Hinkle said.
Now that she has settled in Williston, Florida, she enjoys being a part of the Gainesville art community.
"The Gainesville area is a great place to be involved with the arts. There are so many wonderful artists in this area and so many great locations to show our work (like SIMEDHealth)," she said.
Stop by the SIMEDHealth (Gainesville 4343) lobby to see more of her work.