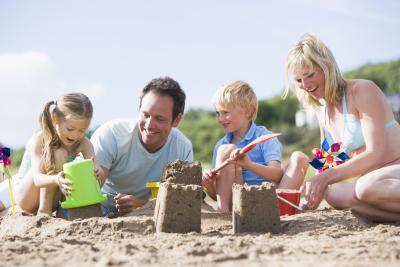 SIMED Primary Care's Dr. David Lefkowitz touches base with us on how we can use this month to raise awareness about skin cancer and help people take action to prevent or detect it, both at home and in our North Central Florida community. While melanoma is the least common form of skin cancer, it is still the sixth most common cancer in North America. The National Cancer Institute estimates that over 10,000 people will die from melanoma this year.
There are 3 major types of skin cancer: melanoma, squamous cell carcinoma and basal cell carcinoma. Of the three, melanoma is the most concerning and most dangerous. It is the one most likely to spread (metastasize) and once it has spread, the chances of a cure go down significantly. As with most cancers, melanoma is best to catch early.
Melanoma, like all cancers, occurs when cells begin multiplying out of control. In melanoma, the out of control cells are the melanocytes that normally live in the epidermis (outer layer of skin). Melanocytes are what give your skin its color. We aren't 100% sure what causes the cells to go haywire but it is likely a mix of genetic and environmental factors.
If you are fair-skinned, have excessive ultraviolet (UV) light exposure, have many moles, or have a family history of melanoma you could be at an increased risk. The biggest environmental risk factor is UV exposure, which is completely preventable with proper precautions.
Avoid tanning beds and prolonged sun exposure. If you are going to be in the sun, wear sunblock (SPF 15 or higher), UV-blocking clothes, wide-brimmed hats, and sunglasses.
Many people are born with moles and the vast majority of them are harmless. The best way to be sure is to have a skin exam by your physician.
Your primary care physician is able to examine skin for possible cancers. If there is ever any question, he or she will do a biopsy of the area or refer you to a dermatologist for their opinion.
To prepare for your physician visit, be equipped with your family history (remember genetics play a role in melanoma risk) as well as other history (e.g. do you tan, do you or family notice any moles changing?)
During the exam the skin will be examined and any skin lesions will be evaluated using the "ABCs of melanoma":
A - Asymmetry: one side of the lesion does not mirror the other
B - Borders: borders are irregular, jagged, or shaggy
C - Color: the lesion has multiple colors, varying shades, and/or the pigment is not uniform
D - Diameter: the lesion is bigger than 6mm (about the size of a pencil eraser)
E - Evolving: the lesion is changing or growing
Treatment depends on the stage of the cancer. Cancers detected early may require only surgical removal. Later stages may require other treatments including surgeries, radiation, and/or chemotherapy.
Patients with melanoma that have been treated are at increased risk for developing a recurrence of that melanoma or developing another, separate melanoma. Therefore, close surveillance is needed (via visits for skin exams with your primary care doctor or dermatologist).
If you have any questions or concerns about possible skin cancer, or if you just want a good skin exam, schedule an appointment with your SIMED Primary Care physician. For more information on skin cancer I recommend cancer.gov or the American Association of Dermatology website aad.org.