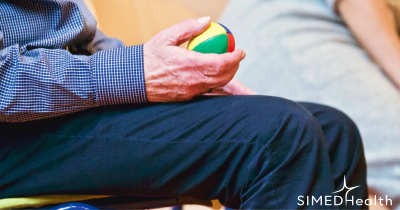 Since the 1920s, occupational therapy has been a legitimate form of treating and helping patients. April is Occupational Therapy Month, so we talked to Ginger McFadden, occupational therapist, about what occupational therapy is and what it can do to help people.
What is occupational therapy?
                Ginger says, "occupational therapy (OT) assists people throughout the entire life span, to achieve one's fullest level of function." Occupational therapists are different from physical therapists because occupational therapy is about helping patients of all ages independently perform necessary tasks. The most common cases of people needing OT is when a person is recovering from an injury, a child with disabilities needs to participate fully in social situations, and when an older adult needs help to adjust to physical and cognitive changes. Occupational therapy is also holistic and spans all settings.
What problems can patients overcome with occupational therapy?
                There are two different categories in OT that a patient's actions are broken down into. One is called Activities of Daily Living (ADL) which involve the things we do to take care of ourselves. Activities such as dressing, feeding, bathing, mobility, and other significant life skills are all classified as ADL. The second category is called Instrumental Activities of Daily Living (IADL) and has more to do with how the patient interacts with their environment and community. Some examples of these activities are taking care of children and pets, financial management, and shopping. Both ADL and IADL difficulties can be overcome through occupational therapy.
Why is occupational therapy important?
                OT is crucial because "it gives people their lives back," Ginger says. The therapy gives people their independence and an improved quality of life. OT also focuses so much on the patient and giving them a one of a kind treatment plan because the therapists understand that everyone is different and needs different things.
                Ginger is an occupational therapist that specializes in hand therapy. She treats individuals with hand and upper extremity issues and diagnosis people with arthritis, EDS, trauma, neurological and tendon ruptures, to name a few. Also, all therapists at SIMEDHealth Physical Therapy see patients pre and post operations.  Ginger says, "As an OT Certified Hand Therapist, our clinic uses the patients activities of daily living and instrumental activities of daily living as a forum for achieving hand and upper extremity independence."
Click here to learn more about SIMEDHealth's physical and occupational therapy options.