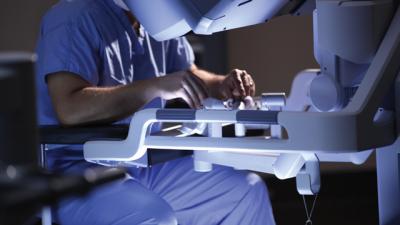 Facing surgery can be a frightening experience fraught with questions, doubts and uncertainties. However, most surgeries are elective, meaning that you decide if surgery is the best option for you and elect to have the procedure. This decision process often gives you needed time to prepare, which is an important step. Research suggests that women who prepare mentally and physically for surgery have fewer complications, less pain and recover more quickly than those who don't prepare.

- "Preparation for Surgery | HealthyWomen." Ed. Ranit Mishori, 28 Apr. 2011.
Gynecological surgeon Prethi Vaddadi,MD has recently joined the SIMED Women's Health team and she specializes in robotic surgery. This style of surgery is minimally invasive and represents the new standard in gynecological care for Hysterectomy, uterine fibroids, correction of vaginal prolapse, pelvic reconstructive surgery, reversal of Tubal Ligation, urinary leakage/incontinence procedures, and Endometriosis. Dr. Vaddadi took the time to answer some frequently asked questions about these procedures, and about gynecology in general.
What questions should women be asking their gynecologist?
Women should feel comfortable asking their gynecologist: "How often should I see a gynecologist?" "How often should I get pap smears?" "What are the different options of contraception that are available?" "What STDs am I at risk for and how do we screen for them?" "When do I need to start screening for breast cancer, cervical cancer, and colon cancer?"
What method of gynecological surgery is right for me?
Gynecological surgery ranges from minimally invasive methods to open abdominal procedures. Robotic surgery, Laparoscopic surgery, Vaginal surgery and Ablations are examples of minimally invasive surgeries. Patients who have scar tissues, complex circumstances, large masses, and cancer are typically not candidates for this type of surgery.
The gynecological surgery alternatives are tailored specifically to each patient and their particular symptoms. A thorough evaluation of each patient including the history and a physical is always needed. Once the evaluation has been established, a plan of care is initiated based on each individual patient's needs.
The goal is to do the least invasive and most conservative therapy to take care of a patient's problem. This can often be done with a minimally invasive procedure, including the robotic surgeries.
As for patients who are high risk surgical candidates or whose health needs to be optimized prior to definitive surgical management, minimally invasive radiological interventions may also be explored such as uterine artery embolization to control hemorrhage in cases of large uterine fibroids.
What should I expect before, during and after a hysterectomy?
There are multiple ways to perform a hysterectomy including vaginally, laparoscopically, robotically, and abdominally. Determining which route is the best for a patient depends on: size of uterus or mass, previous surgical history, weight, medical comorbidities, and pathology. Before any surgery, the goal is to always optimize a patient's health in order to ensure safety for the patient to undergo any surgical procedure. This usually includes a visit with a primary care doctor and any other additional work up if needed.
The length of hospital stay ranges from going home the day of surgery to staying overnight in the hospital, to a hospital stay of a few days for some complex cases. If no complications occur, patients who undergo minimally invasive surgery i.e. vaginal, laparoscopic, or robotic surgery, usually are discharged home either the same day or the next day. Pain is usually less and recovery is faster with minimally invasive surgery. Recovery from a hysterectomy can range from 1 week to 6 weeks, with the shorter duration of time to recovery associated more often with the minimally invasive options.
What are the common misconceptions about removing a cervix?
Common misconceptions about removing a cervix at the time of the hysterectomy include sexual function and pelvic support. Dr. Vaddadi states that additional steps are taking to ensure adequate pelvic support at the time of the hysterectomy these steps decrease rates of pelvic organ prolapse. Pelvic support and sexual function are normally NOT affected by removing the cervix. For women who desire to keep their cervix, routine cervical cancer screening is necessary, and an effect of keeping the cervix can be cyclically vaginal bleeding resulting from retained uterine tissue near the cervix.
Will my physical activity need to be limited after a hysterectomy?
Physical activity is usually limited for 6 weeks following surgery to ensure adequate tissue healing. This includes lifting, working out and sexual intercourse.
Will I still need to have annual checkups and pap smears after my hysterectomy?
Yes, annual checkups with a gynecologist are necessary to screen for STDs, management of hormones, screen for breast cancer, and osteoporosis. Annual checkups also are important for management of contraception, menopausal symptoms, and most importantly the overall management of women's health issues.
The need for surveillance Pap smears following hysterectomy depends on whether the cervix remains or was removed. If the cervix remains Pap smears monitoring is unchanged from women who have their uterus. If a hysterectomy was performed due to cervical dysplasia (a pre cancer condition) or cervical cancer Pap smears will continue for a while. Fortunately women who have had a hysterectomy for non-cancer, and non-dysplasia reasons will be free of the need of future Pap smears.
If I have a hysterectomy, do my ovaries need to be removed?
Ultimately, the decision to remove a patient's ovaries, in the setting of benign disease, is left to the patient. With the understanding that the normal ovary may turn into cancer, disease or pain in the future, patients may decide whether or not to preserve ovarian tissues. Removal of the ovaries results in "surgical menopause." Which causes an abrupt drop in estrogen hormone levels. The premature loss of estrogen may cause hot flashes, and increased risk of developing osteoporosis, heart disease and stroke.
Occasionally despite surgery to remove an ovary, portions of the ovary can be left behind (called residual ovary syndrome), this may need treatment/surgery in the future. For those patients who have their ovaries removed prior to menopause, hormone replacement therapy is explored to help manage menopausal symptoms. For women with gynecological malignancies, there are usually clear indications to remove the ovaries and Fallopian tubes.
If you are interested in scheduling an appointment with Dr. Prethi Vaddadi to discuss your GYN concerns or any of our SIMED Women's Health physicians at any of our locations including Gainesville, Ocala, Chiefland, Lady Lake (The Villages), and Lake City; you can contact SIMED Women's Health or click here to request an appointment online.