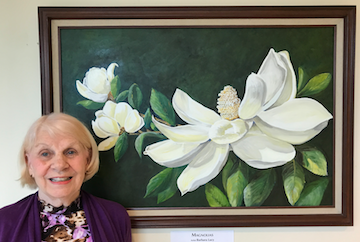 Each month, SIMED recognizes one of the Gainesville Fine Art Association artists featured in the SIMED central hub (4343 W Newberry Road) as the Artist of the Month. Artist of the Month (March 2018): Barbara Lacy
Lacy grew up watching her father create oil paintings.
After her father graduated from the Chicago Art Institute in 1928, he worked with a group of commercial artists on the Land O' Lakes Butter campaign and later on Helen Curtis products.
 "I have fond memories of him painting at home while I asked him endless questions about his work," Lacy said, "He patiently listened and answered me while painting, occasionally asking for some silence."
Although Lacy comes from an artistic family, she wasn't always a painter. After marrying her husband in 1980, his work as a congressional aide with Teleflex Inc. took Lacy's family to multiple cities including Little Rock, Arkansas, Washington, D.C., Oceans Springs, Mississippi, Houston, Texas and a few others.
In her professional life, she has been the Vice President of Baltimore Public Relations Firm, taught elementary school and worked as an employment services office. She and her family settled down in Gainesville in 1990.
"As a young girl, watching my father paint and create for hours inspired me to pick up a brush after my children were in high school. Finally having a bit of time to explore art, I began painting landscapes and large floral pieces," she said.
Lacy is a self-taught artist and has experimented with oil paints, watercolor and now paints with acrylic. Her two passions are animal activism and painting. She volunteers for local animal welfare organizations and regularly displays her paintings at shows across Gainesville. Although she has moved around quite a bit, she stays true to her hometown of Green Bay, WI, by remaining a lifetime member of the Green Bay Packers Fan Club.
However most importantly, says Lacy, she is a loving mother to her daughter, Julie, and her son, Bill, who enjoys drawing for fun.
Today, Lacy's home studio is filled with floral paintings in progress as she works to create more art for the residents of North Central Florida, GFAA, and the patients of SIMED.