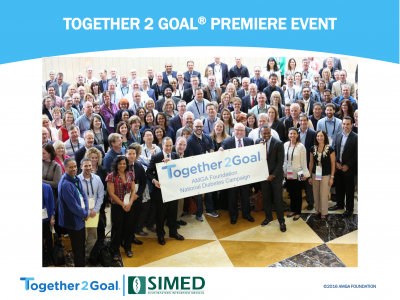 SIMED announced today that it has joined the American Medical Group Association's Diabetes: Together 2 Goal campaign. This national campaign aims to improve care for 1 million people with Type 2 diabetes in the United States by 2019.
The Centers for Disease Control and Prevention estimates that approximately 29.1 million people (or 9.3% of the population) have diabetes. Type 2 diabetes accounts for 90-95% of diagnosed diabetes in U.S. adults. People who have diabetes are at higher risk of serious health complications, such as heart disease and stroke, two of the leading causes of death in the U.S. Other complications can include blindness, kidney failure, and loss of toes, feet, or legs.
SIMED, along with 120 other leading healthcare organizations across the country who are participating in Together 2 Goal® commit to implementing one or more evidence-based care processes designed to empower patients, improve care delivery and leverage information technology.