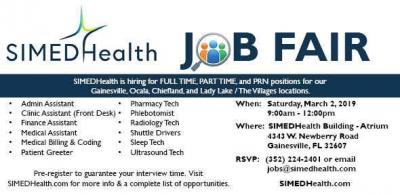 On Saturday, March 2nd, SIMEDHealth is having a job fair for full time, part time, and PRN positions in Gainesville, Ocala, Chiefland, and Lady Lake/The Villages. The event will be from 9AM-12PM in the Atrium of the SIMEDHealth Building at 4343 W. Newberry Road in Gainesville. 
Open positions include: 
Admin Assistant
Clinic Assistant
Finance Assistant
LPN
Medical Assistant
Medical Records Clerk
Pharmacy Tech
Phlebotomist
Radiology Tech
Respiratory Therapist
Sleep Tech
Ultrasound Tech
To those who are interested, you need to pre-register for a 9 AM, 10 AM, or 11 AM interview time slot. To register please email jobs@simedhealth.com with your name, phone number, email address, and preferred time slot or call (352) 224-2200. Applicants who do not pre-register will meet with team members on a first come first serve basis. After pre-registration, go to the Careers page on simedhealth.com and look at the open positions on the Staff Opportunities page. Complete the application for the positions you are interested in. 
Please bring a current resume to the job fair and dress professionally. You will be participating in a brief 15-minute screening interview with a team member during your time slot. Those who are successful during their screening interview will receive a call back for a formal interview within two weeks. For more information, email jobs@simedhealth or call (352) 224-2200.