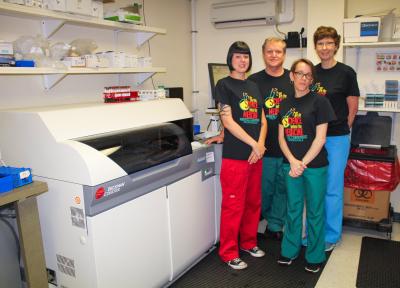 "It's been said that up to 70 percent of all medical diagnoses are based on lab results," Jack Hayes, SIMEDHealth's laboratory manager, said.
According to a Quest Diagnostics survey, that number is correct, although some professionals say that number is higher.
"That's why I think our lab is vitally important. It's essential for our providers and SIMEDHealth to have the availability of a laboratory on the premises and even more so the ability to have the results from a patient they saw at 9 AM that same afternoon. That's one of the key things we strive for," Hayes said.
The SIMEDHealth lab recently acquired a new general chemistry analyzer, which will help to speed up test results. The previous equipment could run about 200 tests per hour while the new machine can run about 400.
"This is a huge time saver when you're dealing with as many tests as we have. Not to mention the required sample size is much smaller. For example, previously we'd need 1-2 milliliters per test. Now we can use less than a drop of a sample. This means the amount of blood we draw from patients is decreased as well," Hayes said.
"The reality is when I started as a lab technician we had over 60 technicians on the day shift and that's all now represented in our new analyzer," Sheila-Faith Barry, SIMEDHealth's medical technologist, said.
"Even still," she continued, "when you look at the lab staff its 7 people, who produce over 1 million tests a year. It's quite an accomplishment."
That is why Barry said she is excited to be celebrating Medical Laboratory Professionals Week with themed t-shirts, games that all of SIMEDHealth can participate in, coffee and donuts and even a potluck dinner.
Charlotte Caban, a SIMEDHealth lab technician, said that these activities allow other departments to stop by and gain a better understanding of the work they do.
"It's exciting to be recognized and share that with others. Our coworkers know us, but not always everything our job entails and how it contributes to their jobs," Caban said.
 "It's important because we don't have those face to face interactions with our patients. It reminds others that we're taking care of patients as well and shows how much pride we take in our work and each other," Michelle Turner, a SIMEDHealth lab technician, said.
"I appreciate every one of them and I know they appreciate each other," said laboratory manager Jack Hayes.
"We're a really tight team and have each other's backs. That's what makes our lab and our team so successful. Their hard work doesn't go unnoticed," he said.
"I believe the work we do is integral to patient care," Medical Technologist Sheila-Faith Barry said. "Not only do we generate results quickly for our physicians, but we're resources for questions for any follow-ups they might have. We always go out our way if they have something out of the ordinary that we need to test as well. Just pick up the phone and call us. No question is too small. We're happy to help."
Click here to learn more about the SIMEDHealth clinical laboratory and look below to see your SIMEDHealth laboratory team.