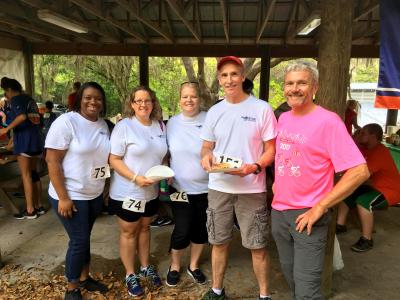 SIMEDHealth has always encouraged and incentivized its employees to live healthier lives. For the past 5 years, the Family Fitness Festival has helped to emphasize this.
The SIMEDHealth Fitness Festival took place on World Health Day this year and is a day full of walking, running, biking or rollerblading for SIMEDHealth employees and their families, friends, and pets at the Gainesville-Hawthorne State Trail.
Each year SIMEDHealth's goal is to walk, bike or run over 1,000 miles along the trail. Employees and family members are encouraged to participate in teams to complete more miles. As team members and participants return back to the starting point they're rewarded with a potluck barbecue lunch and fun family activities.
Lambert Vaes, SIMEDHealth's CFO and the first organizer of the Fitness Festival, said he has a passionate obsession with exercising and wanted to inspire others in the company to live healthier lives.
"Exercising brings you happiness and you forget about your issues. You sleep better, you function better, you problem solve. With the Fitness Festival, I wanted to give people the opportunity to take care of themselves. If one of our 500 employees gets into a habit of weekly exercise that's a success for me," he said.
In addition to the health benefits of the Fitness Festival, each employee is incentivized to participate, via the SIMEDHealth employee wellness program, with a discount on their health insurance premium. 
More importantly, Lambert said that the Fitness Festival encourages a family and teamwork environment by providing a time where employees may otherwise not meet each other.
"You'd be amazed how many people don't know each other with close to 500 employees. Sometimes you'll be on the phone with a coworker and not have a face for that person. This [the Fitness Festival] allows people to get to know each other. The memory and relationship building is very important for any work environment," he said.
Lambert recalls a time a few years ago when a team of 5 employees completed 30 miles each. He said they are still talking about that accomplishment. Over the years, SIMEDHealth employees have come to enjoy the event more and more, he said.
"I remember on our third year of the Fitness festival, it was pouring rain. We still had over a hundred people show up and we ate together in the rain and under tents. It was very cozy," he said with a smile.
This year over 200 employees and family members participated and completed 1,018 miles.
"I'm extremely happy with the outcome and proud of our employees for giving up their Saturday morning to be with their colleagues. I'm already looking forward to next year's Fitness Festival."
When Lambert first began organizing the Fitness Festival, he thought it would be a one-time event. Now he says he'll keep organizing it for as long as he can. The improvement he said he's most looking forward to for the following year is adding sautéed onions to the BBQ menu.
Check out some photos from the Fitness Festival below and click here to learn more about employment opportunities at SIMEDHealth.