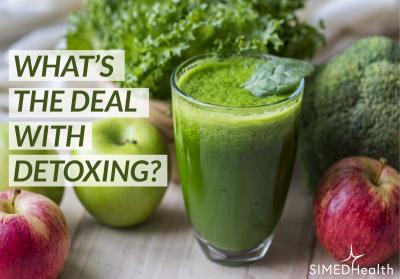 Each summer, we all start to hear about the latest tends on how to get that great summer body. Quick and easy ways to lose weight are plastered all over magazines and television. One of the most popular annual trends is detoxing.
Detox drinks/teas such as a mix of apple cider vinegar, turmeric, lemon or other ingredients are said to help us get rid of unwanted fat; regulate blood sugar, speed up our metabolism and more. Fitness experts and celebrities alike swear by these detox cleanses. So, what's the deal? Does detoxing work?
According to Dr. Thomas Beers of SIMEDHealth Digestive Disease Associates, the evidence just isn't there. The definition of a toxin is: a poisonous substance, esp. one that is produced by bacteria and causes disease. However, this definition (observed by medical professionals) is unrelated to the definition used by weight loss companies to sell products.
As Dr. Beers said, "There is no proven benefit to any 'detox' agent and no proven weight loss benefit."
More often than not, digestive issues such as reflux, diarrhea and constipation are too complex to be treated with a cleanse or detox agent. The same can be said for weight loss. Each person's metabolism and body is different. In order to lose weight, you and your doctor should come up with a plan that works for you, rather than relying on trends.
What Dr. Beers does recommend?
"Eat a balanced diet of fruit and vegetables in moderate portions. Don't eat before bedtime. Don't drink excessively and don't smoke tobacco at all," he said. "Since there are no proven health benefits, I would not recommend it.  Be especially careful regarding spending your money.  They can harm your pocketbook.  A walk outside in the park (early or late in the day this time of year) would be of greater digestive health benefit,"
Having digestive troubles? Click here to learn more about SIMEDHealth DDA can help you.