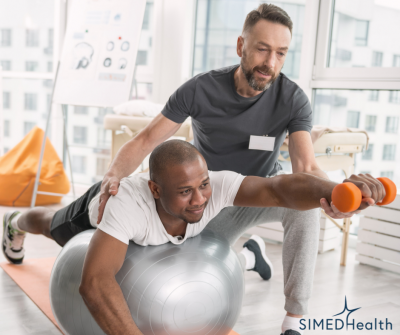 According to the Health Services Research Journal, patients that use physical therapy as a first treatment saw 72% fewer costs than those who did not. This month is Physical Therapy Awareness Month, and we are taking the time to highlight SIMEDHealth Physical Therapy. We talked to David Ochs, a physical therapist at SIMEDHealth Physical Therapy, about what injuries can be treated with outpatient PT and how it compares against prescribed pain medication. 
What is physical therapy?
 Ochs says, "Outpatient physical therapy is a medical service that specializes in movement disorders and limitations of some form. This type of therapy provides a complete treatment plan designed by a licensed physical therapist. The plan focuses on a patient's improvement of their overall functional level, whether their function is restricted by pain, stiffness, spasms, weakness, acute or chronic problems. Treatment incorporates specific exercises for balance, strength, range of motion, and endurance with education on techniques to improve their daily activities." Physical therapists are directly involved in every step of the patient's journey from the initial evaluation to recovery. 
 2. What are some injuries and ailments that can benefit from early physical therapy?
Physical therapy can help a wide variety of people. Some of these conditions include:
 Orthopedic limitations such as sprains, strains, joint replacement, or rotator cuff surgeries 
Neurological disorders like Parkinson's or Multiple Sclerosis 
Rheumatologic diseases such as Arthritis or Fibromyalgia  
Pulmonary disorders such as COPD 
Chronic and acute neck, thoracic or low back spinal conditions 
Headaches
Vertigo, balance limitations
Hand and wrist problems like carpal tunnel syndrome
 3. What tools do physical therapists use to help their patients?
Patients receive treatments with a variety of equipment and tools. Ochs explains, "The primary 'tool' a physical therapist uses is their hands. Through palpitation, manipulation, and massage, the PT helps diagnose and treat the problems. Other tools include a heated pool, treadmills, stationary cycles, balance boards, ultrasounds, resistive therabands, custom hand splints, foot orthotics, taping, cuff weights, and resistive pulleys, to name a few." This list may seem overwhelming, but the physical therapist is there every step of the way to guide the patient on how to use them. Also, not every patient will be using every piece of equipment. Their PT develops with them a personalized treatment plan outlining which tools they will use to help them best recover. 
4. How could physical therapy be a better pain reliever than medication?
"A significant benefit to using physical therapy is the education a patient receives in regards to how to manage their ailment and pain at home," says Ochs. Patients are taught at home exercises, and the PT and the patient work together to decrease and hopefully resolve the current pain. These at-home exercises will always be available to patients to start early in the event that their pain becomes a recurrent problem. By attacking the pain source earlier in the recovery, the patient is often able to suppress the pain better and more rapidly resume their regular functions. Physical therapists can assist with a plan that helps maximize pain reduction while continuing to improve their functional status at the same time. 
Click here to schedule an appointment with your physician to determine is Physical Therapy is appropriate for you.