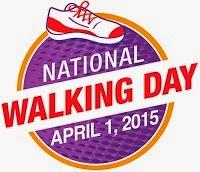 On Wednesday April 1, we'll be celebrating National Walking Day with the American Heart Association.
Physical inactivity is a huge national problem. Eighty percent of adults in America don't get enough physical activity. That's true for many of us right here at SIMED. And it means we're at greater risk for heart disease, stroke and other chronic diseases. But we're not going to take it sitting down.
 
On April 1, we'll join millions of men and women across America as they pledge to live a healthier lifestyle and get physically active. Here's what you can do to join in the celebration:
Show your support and wear sneakers to work on April 1.
Since you'll be wearing your sneakers, we challenge you to take a 30-minute walk on April 1 — and keep it up.
Visit Heart.org/Walking and use the American Heart Association's free tips and tools to stay motivated on your walking program and to sign up to participate and raise funds for your community's Heart Walk.
Don't forget to mark your calendar for a 30 minute walk on April 1st! We'll see you outside.