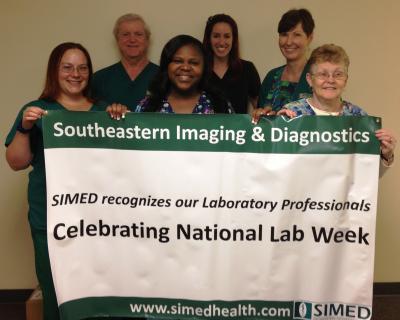 Medical Laboratory Professionals Week is an annual celebration of the laboratory professionals who play a vital role in every aspect of health care.  Since they often work behind the scenes, few people know about the critical testing they perform every day.
 
The theme for Medical Laboratory Week, "Laboratory Professionals Get Results", demonstrates the close ties between correct diagnoses in the laboratories and the best outcomes for patients. Lab Week is a time to honor the more than 300,000 medical laboratory professionals around the country who perform more than 10 billion laboratory tests in the U.S. every year.  Of that number, SIMED laboratory performed over 600,000 tests.
 
When we talk about medical laboratory professionals, we include all of the individuals who participate in the laboratory testing process at all the locations within SIMED.  This applies to the medical assistants, clinical assistants & phlebotomists who order, collect & process laboratory specimens.  It also includes the laboratory technicians, technologists, cytologists, histologists, and pathologists who test, interpret, and issue patient reports. These are the people we recognize during Medical Laboratory Week.
 
So take a minute during Medical Laboratory Week to pat these professionals on the back for doing a good job, not just for the week, but all year long.
 
So, to all my fellow laboratory professionals, I wish you all a "Happy Medical Laboratory Week".
Jack Hayes, MHM, M.T.(ASCP)
Laboratory Manager
Lorem ipsum dolor sit amet, consectetur adipiscing elit. Donec nec eros eget nisl fringilla commodo. Maecenas ornare, augue ut ultricies tristique, enim lectus pretium quam, quis bibendum metus tellus sed magna. Donec eu dolor Pellentesque pellentesque tempor tellus eget…