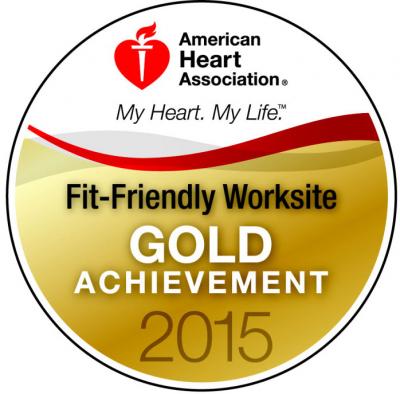 SIMED is honored to announce that we have been recognized as a Fit-Friendly Worksite for 2015. The Fit-Friendly Worksites Recognition program is an award given by the
American Heart Association's My Heart. My Life.
initiative. It is intended to be a catalyst for positive change in the workplace across America and right here in North Central Florida. It recognizes worksites for making the health and wellness of their employees a priority.
We have been recognized at the Gold level, which means that: 
We offer all employees physical activity support at the worksite.
We promote a wellness culture at the worksite.
We embrace at least nine criteria as outlined by the American Heart Association in the areas of physical activity, nutrition and culture.
As a Fit-Friendly Worksite, we are corporate trailblazers who have adopted the spirit of the initiative and have the vision to try improving the health and wellness of employees and the worksite.  This is the third year in a row that SIMED has been recognized and we are proud to continue on our path towards workplace wellness.
We would like to offer special thanks to all of our employees who practice healthy lifestyles and are making positive healthy changes every day!